Talk to an Expert
Considering adopting Encounters? Our Encounters Ambassador Program allows you to directly connect with knowledgeable Chinese Language teachers who currently use the Encounters program in their classrooms.
Encounter Ambassadors offer one-on-one or group presentations of the program, as well as training on how best to use this fully integrated program in your classroom.
If you are interested in getting in touch with one of our experts, please email us at
encounters@sinolingua.com.cn
with your information. We will have an Author Ambassador contact you shortly.

Place your Encounters order now, and begin a unique journey into Chinese language and culture.
Order Yours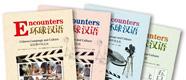 Request complimentary Sample Unit and obtain access to the audio/visual media on the website.
Click here