Try Now
The Encounters Team is here to help you prepare to adopt the Encounters Chinese Language Program for your classroom. Choose the option that best meets your needs today.
I am ready to order
To order books directly, call 0086-01-68997826/68320585。
I would like to talk to an expert
Considering adopting Encounters? Our Encounters Ambassador Program allows you to directly connect with knowledgeable Chinese Language teachers who currently use the Encounters program in their classrooms.
I would like to try a class test
The Class Test Center provides a preview of the first three units of Student Book 1 to allow Instructors to test the Encounters program within their classroom.
I would like to take a closer look
Instructors interested in learning about the Program can gain access to its audio-visual media for a 30 day period and receive an examination copy of the text.

Place your Encounters order now, and begin a unique journey into Chinese language and culture.
Order Yours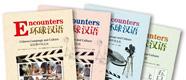 Request complimentary Sample Unit and obtain access to the audio/visual media on the website.
Click here