Program Packages
Flexible, multifaceted, and ground-breaking, the Encounters suite of materials offers teachers an exciting array of options. The print, audio, and video components are fully integrated and are available on the website.
Components for the first semester of Encounters:
Encounters: DVD LabPack 1:
For those who prefer to use physical media in the classroom or language lab. Includes nearly seven hours of audio and visual materials for the first 10 episodes of the Encounters program. Available as a single purchase item or as a site license.
Click here
to see a free episode from the movie.
Encounters: Chinese Language and Culture, Student Book 1: Written by leading Chinese language educators Cynthia Y. Ning and John S. Montanaro, this full-color text introduces an innovative, communicative-based approach for teaching Chinese and features numerous exercises, activities, and cultural notes. The text is fully integrated with the Encounters dramatic series and website and includes extensive links to audio, video, and web-based instructional aids. Each book includes a code giving the student full access to the Encounters website.
Encounters: Chinese Language and Culture, Character Writing Workbook 1
includes practice activities for use in the classroom or at home as well as Chinese character writing sheets for evaluation.
Encounters: Chinese Language and Culture, Screenplay 1
includes a complete transcript in English, pinyin and Chinese characters of the dialogue in each of the 10 chapter videos in Student Book 1.
For teachers only: Encounters: Chinese Language and Culture,
Annotated Instructor's Edition 1. An extensively annotated version of Student Book 1, this full-color volume is packed with step-by-step teaching tips and extra activities for classes and individual students.

Place your Encounters order now, and begin a unique journey into Chinese language and culture.
Order Yours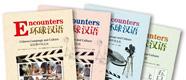 Request complimentary Sample Unit and obtain access to the audio/visual media on the website.
Click here